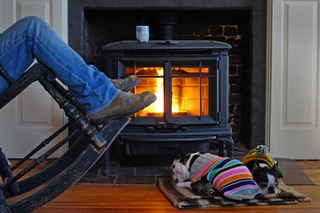 My husband and I are preparing for a trip to Scandinavia in the next few weeks, so we've been researching must-see places and not-to-miss experiences. Along the way, we're gathering information and insights on the culture of the countries we'll be visiting.
Amidst our studies, we came across the concept of hygge. Pronounced hoo-ga, it is a way of life, a way of being in the world according to the Danish, and found under different names in the other Scandinavian countries.
The concept of hygge is described as "an atmosphere and an experience, rather than about things. It is about being with the people we love. A feeling of home. A feeling that we are safe, that we are shielded from the world and allowed to let our guard down."
That's how Meik Wiking, the author of "The Little Book of Hygge," describes it anyway. The subtitle of the book is "Danish Secrets to Happy Living," and in reading through, it's clear the Danes take their hygge very seriously.
Hygge has also been described as being "like a good hug." That kind of says it all, doesn't it?
In everyday practice, how does one create hygge? By doing things like lighting candles at every meal or gathering, breakfast and lunch included; by enjoying a few small indulgences like chocolate or cake or candy without the guilt; by turning off all electronics and simply being together; by cozying up with your tribe regularly.
The fact that hygge is considered a way of life in Denmark is enviable to me. Imagine a country that takes this kind of reverence for life, and each other, so seriously. No wonder Denmark has been rated the happiest country on earth.
Since my favorite word in the English language is 'cozy,' hygge is right up my alley – just more all-inclusive.
In case you're in the mood to create a little hygge of your own, the Danish "manifesto of hygge" follows these 10 principles:
Atmosphere – accomplished with soft lighting, candles and fireglow.
Presence – be here now, and turn off the phones.
Pleasure – a few small indulgences are good for the soul so enjoy the chocolates, the coffee, cookies, cakes and candy.
Equality – it's about "we" over "me".
Gratitude – take it all in and recognize the abundance of life.
Harmony – no competition. No need to prove yourself. You are accepted just as you are.
Comfort – get comfy and relax. (Jeans are a must, in my book.)
Truce – no drama!
Togetherness – build and sustain relationships. Make time for each other.
Shelter – find and love your tribe. They will give you a sense of place, peace and security. (I would include pets in my tribe, too.)
Although not expressly included in the manifesto, Danes definitely have a strong affinity for nature. Every day, they find a way to appreciate nature and bring a little inside. I don't know about everyone, but a small bouquet of flowers or greenery from the garden always makes me happy and adds a sweet touch to the dinner table. And even better, dining "in nature" with people you care about is truly hygge.
I'm really looking forward to our trip to Scandinavia, and hope to bring some authentic hygge home with me. In the meantime, I'll be doing my best to live hygge-like by bringing out the candles, and perhaps taking a trip to Sees for my favorite Bordeaux chocolate. Hyggelicious!
What do you think? How do you live hygge?
Till next time,
Judy