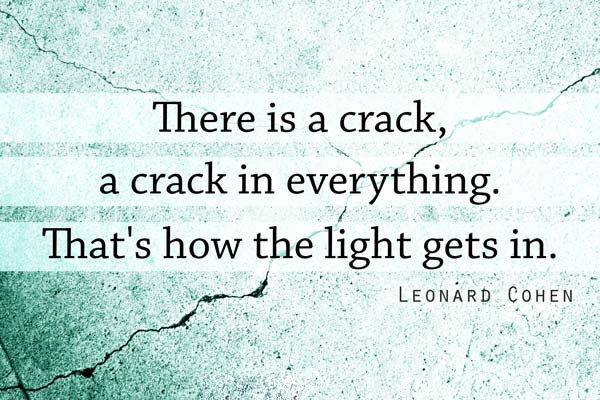 As I'm writing this, I'm sitting in my garden surrounded by beauty . . . and so much imperfection. There's always something that's not doing well, or is overgrown, or is needing attention of some kind . . . the list goes on and on. It is in a state of perpetual growth andchange. But overall, it's a beautiful little garden and I am immensely happy with it, blemishes and all.
Why is it that we can look at things, and people, outside of ourselves and see such beauty and perfection, even with their flaws, but we look at ourselves and see the flaws first. Many of us stop there and never get beyond them.
When I do that, I try to remind myself of the Leonard Cohen lyric above. All those flaws, faults and cracks just let our light in. In other words, the broken parts, the glitches, help us shine.
The Japanese have a concept called Wabi-Sabi. The Wabi-Sabi aesthetic is one of asymmetry, roughness, simplicity, austerity, modesty, and an appreciation of the integrity of natural processes.
I love that. Especially as it applies to aging. At its core, Wabi-Sabi is saying let history, nature, maturity take its course; appreciate the beauty in it, maintain the bloom of it and embrace the imperfection in it.
Simply stated, it is accepting what is natural, warts and all. It is, in fact, the opposite of trying too hard which some of us do in attempting to turn back the clock.
In dealing with the physical changes that come with aging, which tend to not be so wonderful, I find the whole Wabi-Sabi concept comforting and encouraging.
With all the anti-aging potions, lotions and youth elixirs out there, it's difficult to avoid the messages that constantly shout "aging is bad, aging is wrong." As though the alternative is better. Hah! I think not.
I get it. I see my mother in the mirror more often these days. And I certainly don't have the same energy I had 20 or even 10 years ago. But there's a big difference between accepting the fact that we are not the kids we once were and being old and done. Quite honestly, I don't think age has everything to do with it either. Some people are old at 30, and some 80+ year olds are as vital and alive as they were at 40.
Finding the balance between those ends of the spectrum is maybe where we can practice a little Wabi-Sabi. Acceptance is good, as long as it is tempered with a commitment to remaining as alive as possible, "maintaining the bloom" as it were. How we each do that will be unique to us, and beautiful still in all its imperfection.
So let's each of us embrace the flaws, open up and let the light shine in.
Till next time,
Judy