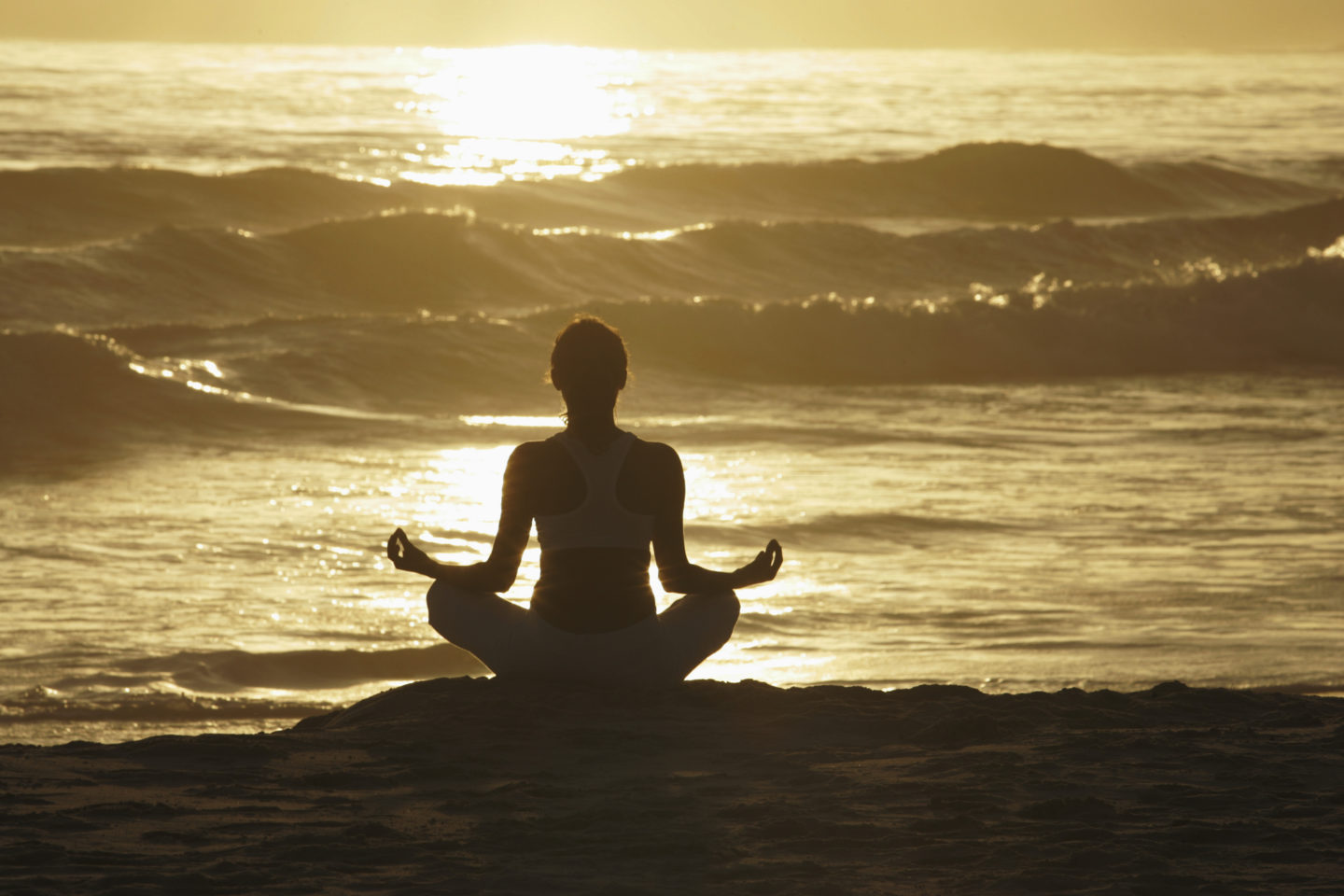 Do you meditate? Are you one of those who've taken heed of all the reports about the incredible benefits that meditation brings to your life – physically, mentally, emotionally, spiritually?
If so, I'm impressed . . . and a little jealous.
I want to meditate, I really do. With my two yoga classes, I get about 20 minutes total a week and that happens in the 10 minutes at the beginning of each yoga class.
I haven't really tried to do it on my own, not consistently at least. I just haven't given it any focus or commitment. I've read books, listened to podcasts and TED talks. But no actual and consistent practice.
Of course, if I made a real commitment and meditated regularly, I would be full of focus and commitment. And then I'd meditate more. Which would give me even more focus and commitment . . . you see where I'm going with this?
"If you want to conquer the anxiety of life, live in the moment, live in the breath."
Amit Ray, Om Chanting and Meditation
Here's something I read recently that has given me hope that I may be able to get on the band wagon and keep it rolling:  In a recent study, scientists found that we need just 10 minutes a day over 16 weeks to see significant improvements in neural functioning associated with enhanced focused attention. And breaking the 10 minutes into two five-minute meditations at the beginning and end of each day works just as well.
Of course, if you can do 20 or 30 minutes a day, the results are even better – like increasing density in brain gray matter associated with memory, stress and empathy, and a significant decrease in pain sensitivity. Really important stuff for our aging brains and bodies.
I don't know what I'm so afraid of in that 5 minutes? Well . . . my mind mostly. It's so monkey-like, jumping from one thing to the next willy nilly. The fact that meditation can change your brain structure to help with anxiety, focus and attention should be reason enough for me to keep at it.
"Sometimes you need to sit lonely on the floor in a quiet room in order to hear your own voice and not let it drown in the noise of others."
Charlotte Eriksson
In fact, it makes me want to start a worldwide movement to get everyone meditating at least 10 minutes a day. Think about it. If we could help people find a little more peace and joy in their hearts, maybe we could reverse a lot of the hate and anger that has become so prevalent in our world. It's certainly worth a try.
All of a sudden, those 5 or 10 minutes a day don't seem so scary. You know the old saying (or was it song lyrics?) "let there be peace on earth, and let it begin with me." I love that.
So here I stand (sit, actually) in front of you vowing that as a soon-to-be-meditator, my overarching goal is more than just a calmer mind and healthier body, it is . . . wait for it . . . World Peace.
(Miss Universe and I share that dream.)
In all seriousness, if there is anything that I can do for our planet while I'm here and after I'm gone, let it be peaceful, joyful and loving.
I think that's definitely something worth meditating on.
How about you? Are you ready to join the peace train with me (thank you Cat Stevens)? 10 minutes a day is all we need, and we can save the world.
Till next time . . . .om.
Judy