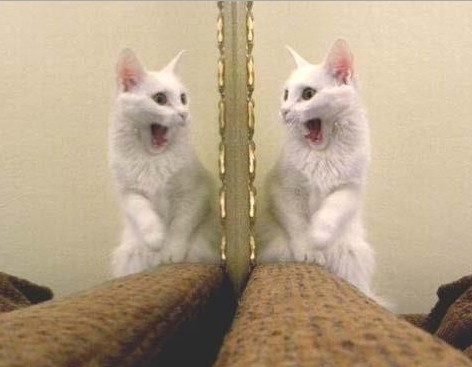 Have you had that moment yet where you glance as you walk by a mirror and see your mother? Well, let me say that it's a little unnerving. Not because of my mother's looks – I always thought she was an attractive woman – but because I'm not old yet. Right? Oh wait, maybe I am. 
My first reaction was to run to the beauty counter for any cream, oil, serum, or mask I could find and try to reverse or slow that mirrored reflection down. I know I'm not the young woman I once was – no head-turning ability any longer regardless of how minimal it was at best – but my mother? Really?
Coming to terms with our ever-progressing age is definitely a challenge. As Boomers, we're so accustomed to being young, hip, in charge, and leading the way with so much life stretched out in front of us, that facing the opposite reality of actually becoming old is a non-starter.
And let's face it, ageism is alive and well, which makes dealing with the inevitable even more difficult. Our culture still values the beauty of youth over the experience of age. So, it's easy to feel sidelined, most especially for women, when the glow of youth evaporates and the cloak of invisibility begins to enfold us.
In other words, looks matter. We all want to age well, but it can be difficult to figure out what that means to us personally. Or how we carry it off individually.
I know there are many who will disagree with me, but for me at least, I know I feel best when I put effort into looking my best. Of course, the effort required is more involved with every passing year.
Anyway, I've been giving this some thought, as I have witnessed my own sense of style shifting, and the jowls along my jawline drooping ever deeper. Since I've always loved clothes and fashion, it's with amusement that I see myself reaching for more "comfortable" items in my closet, over those that might take a bit more effort. And as much as I don't like to admit it, the old "age-appropriate" question comes up sometimes as I shop or dress for an event.
In the not-so-back of my mind, I've been starting to accept that "Yep, I am that! An older woman that maybe should embrace the invisibility and move on." Perhaps, being in the world of not-working-any-longer, I've begun to harbor a tiny doubt in myself here and there. Perhaps.
And then . . . thinking again. Rather than get too close to the edge of that age-appropriate or anti-aging slippery slope, I'm stopping it right here.
After all, at this age, I know what's age-appropriate for me. And that is anything I damn well like. Period. End of story. Finito.
It might not be someone else's age appropriate, and that's fine. It might not even be very flattering on me, but if it makes me feel good, makes me feel like me, then I'm good.
I love seeing older women dress well, expressing themselves fully. Even if their taste is very different from mine, the fact that they're putting themselves together and stepping out for all the world to see is kinda thrilling to me. If I can get to them quickly, I rarely lose an opportunity to tell them how stunning they are. Feels good – for them and me.
Whatever we choose to wear – clothes or hairstyle, how we choose to live – casual, elegant, in-between or outer-edges, should be a reflection of our personal style. Our personal desires, needs, energy, and spirit.
Bottom line: I want to feel most "like me" in whatever I wear or do. I don't want to feel like I'm trying too hard or not trying hard enough.
So, yeah, aging is a little scary, sometimes frustrating as the energy I have doesn't always match the spirit I have for what I want to do. But overall, I'm really, really happy being this age. There are far too many benefits that come with age to ever want to go back.  Because as experience teaches us, the good old days are now.
Regardless of what the mirror says.
I'd love to hear your thoughts on the matter.
I'll leave you with this Macklemore/Kesha song that caps this off beautifully, with thanks to my niece, Lauren, for bringing it to my attention and making sure I stay in tune, so to speak.
Till next time,
Judy